The staircase in your home often plays a significant role in creating the first impression for guests that visit your property. Similarly, it is an essential feature that sees constant use, ensuring it remains in good condition is crucial. However, beyond just focusing on the maintenance of the staircase, it is essential to think about how it can work as an aesthetic feature. With some decor inspiration and thoughtful design, your stairs can become the centerpiece of your home. Here is a guide to help you transform your home with stunning staircase decor.
1. Embrace the power of colors
One easy way to add extra flair to your staircase is by giving it a coat of paint or incorporating it into your interior color scheme. Whether you want to keep things neutral or add bold pops of color, it is best to remember that color choice can impact the overall aesthetic of your property. For instance, going with a bright and bold hue like red can create a striking entrance to your home while shades of blue might create a calming feeling.
2. Incorporate wallpaper
Apart from painting the staircase, you can also explore adding wallpaper to your staircase wall. Wallpaper is highly versatile, flexible, and easy to install. It comes in numerous textures, designs, and colors, ensuring you have a wide range of options to choose from. Adding wallpaper with prints or designs that match your interior decor can make your stairs feel more personalized and unique.
3. Incorporate natural elements
By bringing the outdoors in, you can add warmth and a sense of calmness to your stairwell. Consider adding plants or flowers along the steps, or changing the banister to a wooden version to add warmth and rustic charm. You can even opt for a natural fiber runner for a muted yet sophisticated effect.
4. Work with railings
The railings along your stairs serve both functional and decorative purposes. You can work with railings to create a stylish and eye-catching design. For instance, using wrought iron railings can add a classic touch, while a modern design, such as cable railing, can make your stairs feel sleek and trendy.
5. Add artistic elements
Artwork pieces are generally associated more with the living room or hallways. However, hanging traditional or abstract pieces on your staircase wall can give an added touch of elegance, make use of the empty wall space, and become a conversation starter for visitors. Ensure the artwork is bold and creates a level of intrigue that matches the staircase's unique and beautiful designs.
6. Focus on lighting
Lighting is a critical element when thinking about staircase decor. Adding lighting fixtures such as chandeliers, pendant lights, or sconces can create a warm and welcoming ambiance. You can highlight the accent-wall with lighting and make the staircase stand out. If you have a stairwell with a landing or a window, try harnessing natural light and play with the addition of blinds or curtains.
7. Incorporate rugs and runners
A beautiful rug or runner can elevate the overall look of your staircase. Adding a runner in a bold and bright color can add personality while a natural fiber can bring a rustic charm. It's critical to ensure that the stair treads are safe underfoot to decrease the likelihood of slips and falls.
8. Make use of storage
Many homeowners overlook the potential for storage in and around the staircase. By investing in shelving that fits under the stairwell or creating storage space, you can provide your home with more storage without compromising on visual appeal. Remember to keep the storage solutions, such as cabinets, drawers, or shelving, in tune with the rest of the decor to enhance the overall aesthetic value.
9. Opt for a grand entrance
For those with higher ceilings and grand entrances, creating a grand staircase can solidify the impact of this vital feature. This type of staircase naturally draws the eye upwards, and you can play with the scale and grandeur, ensuring that it remains an entrance that awe-inspires.
In conclusion, incorporating stunning staircase decor can instantly elevate your space and create a more welcoming and enticing atmosphere. Remember, when working on the staircase, it is essential to focus on both aesthetic appeal and functionality. By incorporating elements such as colors, wallpapers, lighting, natural elements, and storage, you can achieve a grand entranceway that guests can't help be drawn to.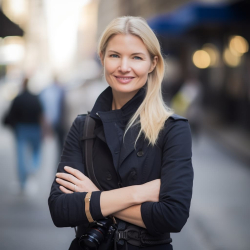 Últimas entradas de Rachel Mitchell
(ver todo)