With the warmer months upon us, now is the perfect time to spruce up your outdoor space and transform your garden into a stunning oasis. Whether you have a small patio or a sprawling backyard, there are endless possibilities to create a beautiful and functional outdoor area that you and your loved ones will enjoy all summer long.
In this article, we'll discuss some simple yet effective ways to elevate your outdoor space with stunning decor. From incorporating colorful plants and flowers to adding cozy seating and lighting, we'll cover all the essentials to create an inviting space that will inspire relaxation and entertainment.
Start with a Plan
Before you dive into buying new decor and accessories, it's important to start with a plan. Take some time to evaluate your current outdoor space and consider what you like and dislike about it. Determine your budget and decide on your desired outcome – whether that's creating a cozy corner for reading or a large entertainment area for hosting gatherings.
It's also essential to consider the climate in your area and the amount of sunlight your outdoor space receives. This will impact the types of plants and decor you'll want to incorporate. Once you have a plan in place, you'll be able to move forward with confidence and make the most of your budget.
Add Color with Plants and Flowers
One of the easiest and most effective ways to spruce up your outdoor space is by adding colorful plants and flowers. Whether you have a green thumb or not, there are plenty of options that are easy to care for and will add a pop of color and beauty to your garden.
Consider adding container gardens or raised beds to make planting and maintenance easier. Some popular options for bright and colorful outdoor plants include petunias, marigolds, and impatiens. For a more low-maintenance option, succulents and cacti are great choices that require minimal watering and care.
Create Cozy Seating and Entertainment Areas
To truly transform your outdoor space into a stunning oasis, you'll need to add comfortable and functional seating areas. Whether you prefer a cozy corner for reading or a large entertainment area for hosting guests, there are endless options to consider.
Start by adding comfortable chairs or sofas in durable outdoor materials such as wicker or metal. Consider adding a coffee table or side table for drinks and snacks, and add outdoor rugs or cushions to make seating areas more comfortable and inviting.
If you have a larger outdoor space, consider adding an outdoor dining area or a fire pit for a cozy and functional gathering spot. This will not only add to the aesthetics of your outdoor space but also create a convenient place to gather with friends and family.
Add Beautiful Lighting
While natural light is essential for any outdoor space, adding beautiful outdoor lighting can help elevate the ambiance and create a cozy and inviting atmosphere at night. There are plenty of options to consider, from string lights to torches and lanterns.
Consider adding string lights to your outdoor seating area or creating a path with stake lights or lanterns. You can also add a fire pit or outdoor fireplace for added warmth and light. The right lighting can create a magical ambiance in your outdoor space, adding to the overall beauty and functionality of the area.
Incorporate Art and Accessories
To truly elevate your outdoor space, consider incorporating art and accessories that add personality and character to the area. This can include sculptures, wind chimes, or wall art that adds to the overall aesthetic of your outdoor space.
Consider adding a focal point such as a water feature or garden sculpture that adds to the ambiance of the space. You can also incorporate outdoor textiles such as pillows or curtains to add color and texture to your seating areas.
Conclusion
Creating a stunning outdoor space is all about incorporating the right plants, furniture, lighting, and accessories to create the perfect balance of beauty and functionality. With some thoughtful planning and an eye for design, you can transform your garden into a stunning oasis that you and your loved ones will enjoy all summer long.
From cozy seating areas to colorful plants and flowers, there are endless ways to add character and charm to your outdoor space. Whether you're hosting a party or simply relaxing with a book, your outdoor space can become a haven of beauty and relaxation with the right decor and accessories. So go ahead and spruce up your outdoor space – your backyard paradise awaits!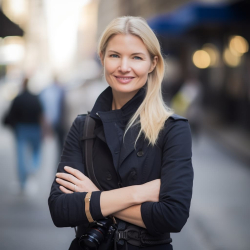 Últimas entradas de Rachel Mitchell
(ver todo)